Radio Prague's Monthly Quiz
Test your knowledge of things Czech! On the first day of the month Radio Prague will announce the month's quiz question on this site. At the end of every month we will draw six winners from the correct answers received. Join our contest and win a Radio Prague prize! Answers should be sent to cr@radio.cz by the end of the month.
The winners will be featured on this site.
Question for April:
Which Moravian popular tradition was included in the UNESCO intangible cultural heritage list in 2011?
Question for March
Which city is located further to the West – Vienna or Prague?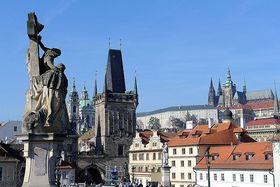 Prague, photo: Filip Jandourek
The correct answer for March: Prague
Winners:
Bridkovskij Oleg, Ukraine
Hrušková Edita, Czech Republic
Koji Nakayama, Japan
Skinner Grant, UK
Wichmann Rolf, Germany
Gómez Gálvez Yusimi, Cuba