Sunday Music Show
Dol Dauber and his inter-war dance and jazz band
This program is not available in sound due to copyright protection.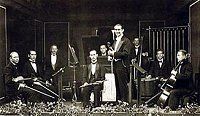 Dol Dauber's band, photo: archive of Radioservis Dol Dauber was the central figure in one of the leading Czech dance or jazz band groups of the interwar years. Between Europe wide appearances, Dauber often headed the bill during the summer season at Mariánské Lázně's plush hotels with the spa providing inspiration for many of his compositions. Dauber's band also featured in several Czech film hits.
The episode featured today was first broadcast on January 12, 2014.